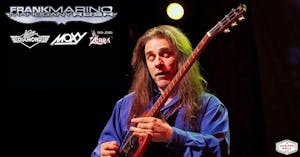 Frank Marino & Mahogany Rush
Moxy, Legs Diamond, Randy Jackson of Zebra
Canton Hall
Dallas
,
TX
$44.50 - $67.50
Postponed
On AXS
Frank Marino & Mahogany Rush w/Special Guests: Moxy, Legs Diamond and Randy Jackson of Zebra Sunday, October 18th Canton Hall 7pm Doors
Frank Marino & Mahogany Rush
Facebook.com/OfficialFrankMarino/
He was born Francesco Antonio Marino on November 20, 1954 in Montreal, Canada. Half Italian and half Arabic, Frank is one of five children and only has a 7th grade education that even included a short stint in military school. "Those years were the late sixties and everyone was into the hippie peace movement and we were so busy getting stoned that we certainly didn't want to attend school. All we did besides getting stoned was listen to Hendrix, The Doors, The Beatles and a few others as well as getting involved in movements such as peace, love, anti-war etc. Those were definitely the days, not like now where many young people seem to be into negativism and hate".
Legs Diamond
Facebook.com/Legs-Diamond-56726261484/
Legs Diamond are a rock and roll band that has often been called "The American Deep Purple". They formed in Los Angeles, California in the mid 1970s and released their self-titled debut album for Mercury Records in 1977. They are celebrating 40+ years!
MOXY
Moxy was a Canadian hard rock and heavy metal band, formed in Toronto, Ontario, in 1974, from previous members of the rock group Leigh Ashford — which included singer Douglas "Buzz" Shearman (former teen singer of Sherman & Peabody) alongside Greg Godovitz of Fludd & Goddo and Gil Moore (later of Triumph), Earl Johnson (former member of King Biscuit Boy), Bill Wade (former member of Outlaw Music and Brutus under the alias Hally Hunter that also included Gino Scarpelli of Goddo) and Terry Juric, (former member of Outlaw Music) as Leigh Ashford. The group changed its name to Moxy in late 1974. This name change was accompanied by a change in the group's sound. Buddy Caine a former band mate of Earl Johnson was added to the group in 1975.
Randy Jackson of Zebra
Facebook.com/randyjacksonofzebra

Randy Jackson was born and raised in New Orleans, Louisiana. He started playing piano and guitar at age 5. His earliest influences were Les Paul and Mary Ford, The Beatles, The Allman Brothers, Cream, Jimi Hendrix, The Moody Blues, and Led Zeppelin.

Venue Information:
Canton Hall
2727 Canton St
Next to Bomb Factory
Dallas, TX, 75226